KLASSROOM & REMOTE LEARNING
The ideal tool for remote learning
Teachers create easily a virtual classroom and parents can join in just a few clicks.
Bring remote learning to life while continuing to build a relationship with your students' families.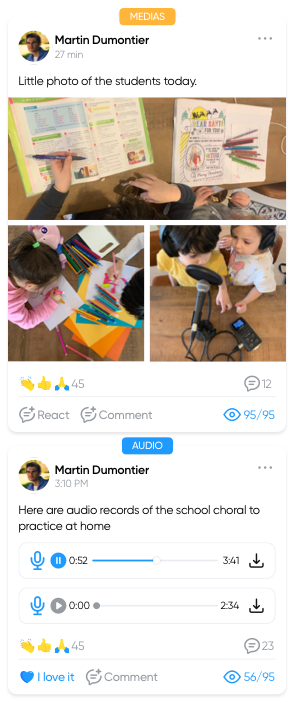 Always connected to your classroom
Teachers post photos, videos, documents, links, voice notes, etc. Students and their families can stay connected to the classroom through the class feed.
Posts can be scheduled in advance for more peace of mind. The teacher can also check which families have seen the posts and engage with them through surveys, comments and reactions.
Klassroom can also translate posts and messages into over one hundred languages.
EXCLUSIVE FEATURE
Manage & give assignments to your class
Teachers can easily give assignments and attach documents, voice notes, links, etc.
Parents have a clear visibility into what work needs to be done and can hand it in just one click. Teachers then receive the completed assignments all in one place and can begin grading.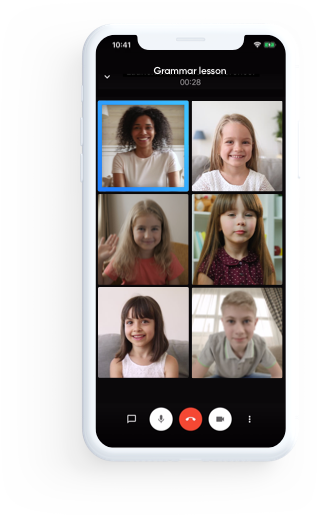 Create & easily schedule videoconferences
Need to provide individual attention to a student, get all your students together in one place or simply meet with parents?
Lets you do all of that and more in just a few clicks! No software to install, just click on "video conference" and select which parents you would like to contact. They will receive a Klassroom notification on the device of their choice and can click on it to join your call.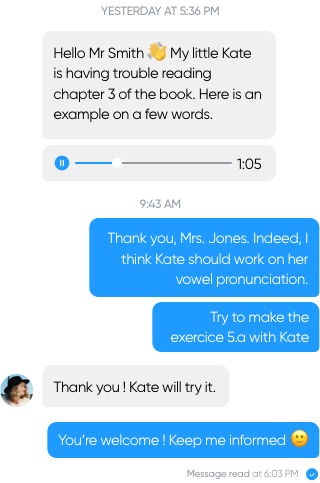 Start private conversations with parents
If a student needs particular attention or feedback, Klassroom's private messaging feature is the perfect place for teachers to individually engage with parents.
It is as easy to use as instant messaging, but respectful of teachers' privacy. Only teachers can initiate and end private conversations with parents. Messages can be translated from English to over a hundred languages and vice versa. No more language barrier!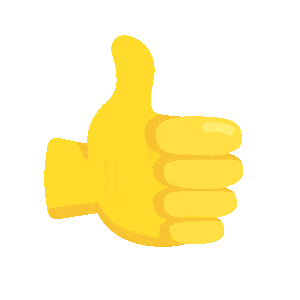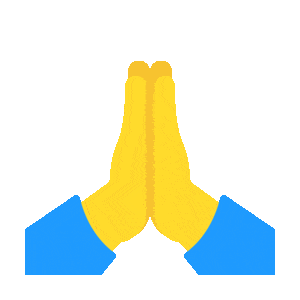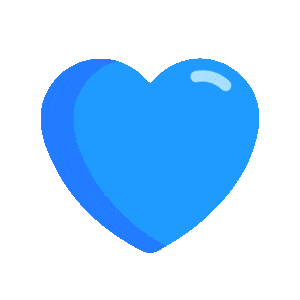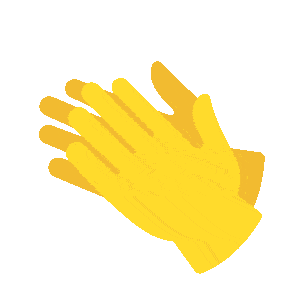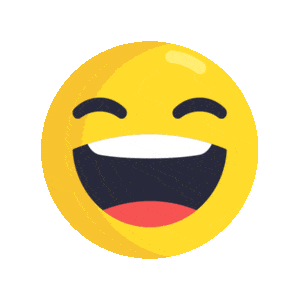 « An awesome app for teachers, especially in the times of remote learning »
Elementary In The Mitten
« A tool that allows for much easier communication with families »
Angélique Heinry
«My Work is simplified enabling efficient and faster execution»
Les fraises Cetrocool
«Klassroom enables me to include parents in school life more and for them to understand what takes place in the classroom.»
la_maitresse_sev
«Time saving and simplified relationships with parents.»
Lulu la Souris
«It's really great for children whose parents are separated. Each parent can have access!»
dans.la.classe.de.marion
«More peaceful and comfortable relationships with the PTA, grounded in trust»
Maitresse Fossette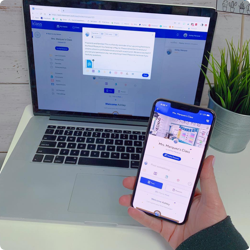 «It has a ton of amazing features and the best part is how usher friendly it is for teachers AND parents!»
« Compared to the other apps like this that i have seen so far, it is much more user friendly and super easy to use. I also really appreciate that there is a video conference feature ! That is so cool and would be great to have conversations with parents. I also like the post feature where i could upload documents or even videos/photos in a safe space for kids. »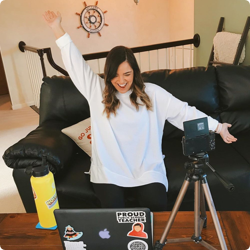 «It's FREE and totally changes the remote learning game while schools are closed! 🥰»
« The best thing about using Klassroom is being able to post announcements and attaching photos or videos. This is really handy because parents can see what students are doing. I can also post a quick video explaining something to parents, especially now that we are doing remote learning. »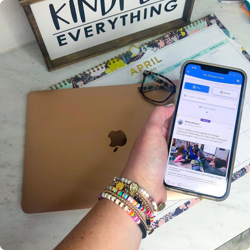 « It has a ton of amazing features and the best part is how usher friendly it is for teachers AND parents! »
«Easy to use and interact with families, Multiple languages, Communicate privately, FERPA compliant & MORE!»
« Is how user friendly it is for a parent to use as well as for teachers and administrators. I really love the unique emojis we can use to react to posts ! Especially now with everyone having to practice in social distancing, its a great way to communicate with parents about their child's virtual school day and recieve feedback from parents as well. »
Safe & secure
Our privacy is our priority
We promise to keep your school community safe and secure. Learn more in our Privacy Center. Confidentiality, Security, Inclusion and Freedom is our 4 big principles.
Any questions ?
We're here to help you
Our help center are here ! Get support with F.A.Q or let's talk on social network. We will be happy to discuss and answer any questions you may have.